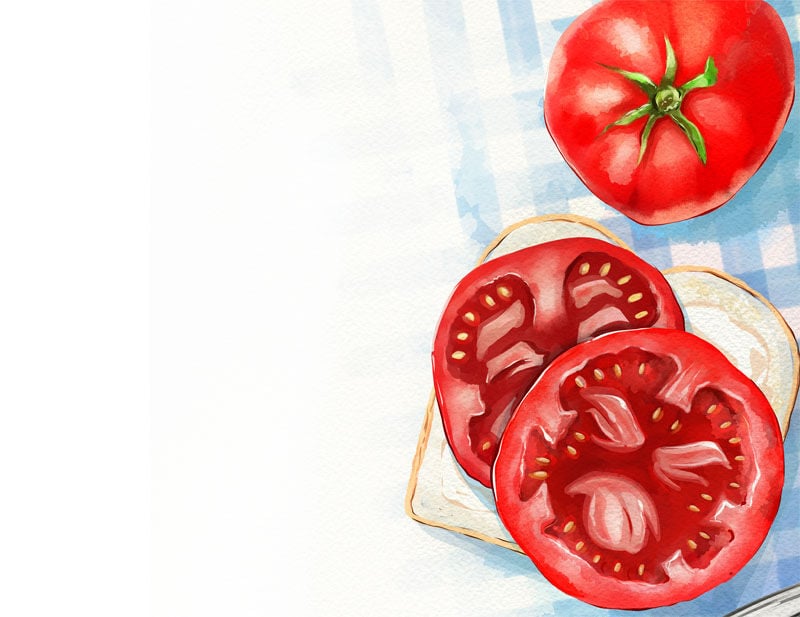 Steve Bender still remembers being served a chicken salad sandwich for lunch at a garden writers conference in Arkansas years back. Bender popped the hood to find, as is often the case, a tomato slice.
Hoping no one would notice, he stealthily slipped the tomato out of the sandwich and under his plate. The person seated beside him happened to see this and followed suit. Across the table, someone proceeded to do the same. To think: a cohort of closet 'mater haters in a room full of professional garden writers.
Bender, author of "The Grumpy Gardener: An A to Z Guide from the Galaxy's Most Irritable Green Thumb," has written about tomatoes – how to grow them, how to harvest them. But one thing he won't write about is how much he loves them. "I just don't like fresh slices of tomato. I never have."
It's hard to admit to hating tomatoes. In the South, this fruit (if we're being technical) practically grows on a pedestal. The tomato-and-mayo sandwich is as popular here as a PB&J. Confessing to hating the beloved tomato is akin to calling babies ugly.
Personally, I'm less of a hater and more of a skeptic, wary of all the unfettered tomato love around me. In truth, tomatoes don't always do it for me, so I guess what I'm saying is: Some babies are ugly.
Not all tomatoes taste good. In fact, disliking them may simply be a matter of science. There are thousands of varietals out there – from wild specimens to heirlooms to commercial hybrids. And their flavors vary widely. A number of factors influence what we taste when we bite into a juicy slicer or a seedy cherry bomb. A large part has to do with internal biology.
University of Florida professor Denise Tieman, a tomato flavor biochemist, says the recipe for a perfect tomato involves three ingredients: sugars, acids and, most importantly, aroma compounds, or "volatiles."
Unlike bananas, which owe their signature banana-ness to a single volatile, there are more than 30 kinds contributing to a tomato's flavor. And without them, your brain would still pick up on the sugars and the acids, but the tomato would no longer taste like, well, a tomato.
Commercial hybrids tend to have far fewer volatiles than heirlooms. By focusing on factors needed to sell the fruits commercially – such as disease resistance, transportability, shelf life and uniformity – producers have unknowingly bred out genes responsible for producing flavor-enhancing volatiles.
"Basically, through the process of breeding for all these other really important traits, we've lost a lot of flavor," Tieman says.
Tomato flavor also varies depending on where and how they're grown. According to Mark Reiter, director of Virginia Tech's Eastern Shore Agricultural Research and Extension Center, the sandy loam soil of the Coastal Plain region generally provides ripe growing conditions for flavorful tomatoes and other crops.
By contrast, the harder, clay-packed soil of the neighboring Piedmont region retains too much water for some vegetable crops. The Coastal Plain's soil also warms up faster and retains just enough water, around 15% to 20%, to ensure nutrients are transmitted to the plants.
Hanover County in the Coastal Plain is prized for its colorful array of heirlooms and wealth of growing knowledge. Village Garden, the Hanover farm of David Hunsaker and Barbara Hollingsworth, sits on a hill just east of Interstate 95, beyond the brink of the Atlantic Seaboard Fall Line that separates the Coastal Plain from the Piedmont. Traces of Piedmont clay and old-forest growth augment the sandy soil for slightly better water retention, without detracting from its other life-giving properties.
The 1-acre farm plot is a rarified tomato paradise that boasts more than 200 heirloom varietals – from dusky-hued Cherokee Purples to sturdy Oxhearts, some as big and golden as a tropical papaya. Hunsaker and Hollingsworth handpick their bounty at peak ripeness during the growing season and supply them directly to 20 Richmond restaurants.
Compare these cultivars to with the tomatoes you'd buy at the store. Grown all around the country, all year round, in soil of varying grades, commercial hybrids are picked green and hard as a rock, well before they've had a chance to mature. Then they're chilled, shipped long distances and gassed with ethylene to induce ripening.
These commercial practices decrease sugar and volatile levels. Prolonged refrigeration in particular, Tieman says, can permanently shut off the volatile-producing genes.
Of course, as with all food, it really comes down to personal taste. Certain individuals may even be genetically predisposed to having greater sensitivities toward the volatiles in tomatoes. Hunsaker's message to those who haven't found a tomato that works for them? Keep on tasting. "Try different tomato-focused things," he suggests.
But for extreme 'mater haters like Bender, this may be easier said than done. Bender admits to enjoying tomatoes rendered into a sauce or stew. But as far as eating them fresh, he's adamant that it'll never happen.
"My life would've been a whole lot easier if I just liked fresh tomatoes. But you know, I am who I am," he says. "I know I should apologize, but I'm not going to."