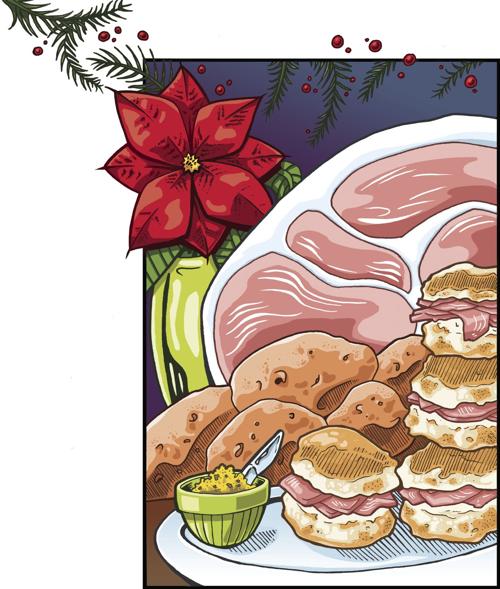 No dish proclaims more robustly that it's the holidays in Virginia than ham biscuits. Elegant in their simplicity, they are irresistible. But while technically simple to make, the treat comes with a story that, like the biscuits themselves, has layers.
It's thought the tradition arose from enslaved men and women grabbing biscuits (introduced by European settlers) and a slice of salt pork to create a meal in the field. This would be among the many examples, from fried catfish to peanut soup, of lasting contributions made by enslaved people to Virginia and American cuisine.
As to what constitutes the "real" Virginia ham biscuit … well, everyone – and I mean everyone – has an idea.
Interestingly, the ham is the easy part: The only "right" ham for biscuits is Virginia salt-cured country ham, sliced (not shaved) extremely thin. The clear favorite has been made since 1926 by the Edwards family. Sure, there are other wonderful country hams, but treasure from the Edwards Virginia Smokehouse is readily found in the deli case at your grocery.
It's the biscuits themselves that can be really tricky. The ingredients are the first conundrum: flours, leavenings, fats and even liquids. And all have their proponents.
It's widely agreed that the best flour for the job is a soft winter wheat Southern flour, such as the White Lily brand. It contains fewer gluten-forming proteins and reacts ideally with quick-acting leaveners such as baking soda and powder.
While biscuits are essentially quick bread, there are cooks who feel that a dash of yeast or even the old-fashioned leavener cream of tartar are de rigueur. Some swear by rendered hog fat – lard – to achieve optimum flakiness, and others favor vegetable shortening for fluffiness. And of course, there are those who will only countenance the rich taste of butter.
Once you get the biscuit ingredients sorted, then you have to decide how to make them. And there's the beaten-biscuit contingent, the angel-biscuit aficionado and the old-fashioned buttermilk-biscuit fan.
To me, a ham biscuit shines when it incorporates another Virginia gem you might not think of. We are the land of plentiful sweet potatoes, particularly on the Eastern Shore, so perhaps a sweet potato ham biscuit is the most quintessentially Virginian, and therefore the first to tackle.
If others want to argue, have them try one. Any doubt they might have expressed will be lost in their mad dash to grab another!
Clare Schapiro is a Richmond-based food writer, cookbook author and gourmet.
Eastern Shore Sweet Potato Ham Biscuits
3 cups all-purpose flour
1 tablespoon baking powder
1 teaspoon baking soda
Pinch of salt
½ teaspoon sugar
18 tablespoons cold unsalted butter, cut into tablespoons
2½ cups cooked, peeled and mashed (or mashed canned) sweet potatoes
½-1 cup heavy cream
1 pound very thinly sliced Virginia country ham
Preheat oven to 425 degrees. Combine dry ingredients and stir well. Add butter and blend with a pastry blender or two knives until butter is dispersed throughout. Add sweet potatoes and mix to combine. Add cream, a little at a time, just until the dough forms a ball.
Roll dough with a well-floured rolling pin to a half-inch thick. With a 2-inch biscuit cutter, cut biscuits and bake them on a nonstick baking sheet for 12-15 minutes until lightly browned. Cool on a wire rack, then split and put a slice of ham in the middle. Serve with mayonnaise and mustard.