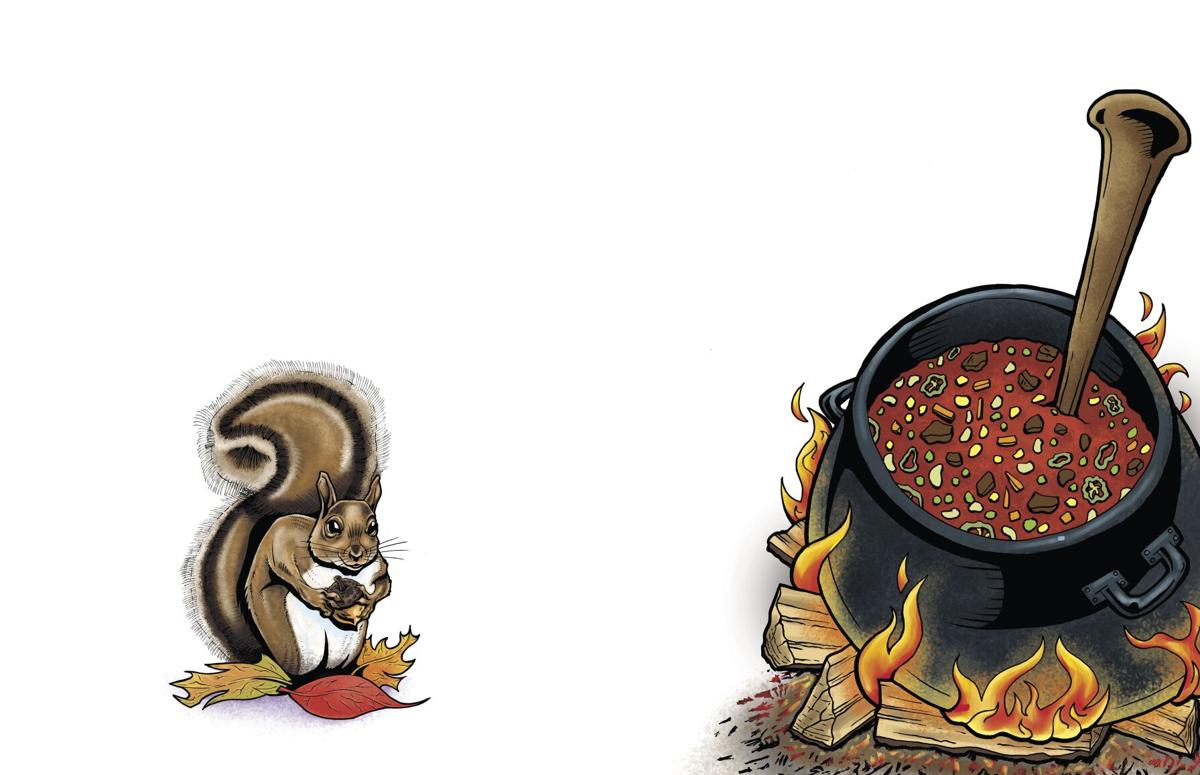 While those upstarts from Brunswick, Georgia, may beg to differ, the eponymous stew that carries their name – a favorite of civic fundraisers – actually hails from Virginia.
There are numerous records of the iconic Southern staple appearing in the commonwealth before the Civil War. The Alexandria Gazette in 1849 dubbed it "a genuine South-side dish, composed of squirrels, chicken, a little bacon, and corn and tomatoes."
That was long before the first Georgia stew master ever picked up his paddle.
A historic marker was erected in Brunswick County along Virginia's southern border in 1997 to consecrate its origins. It reads:
"According to local tradition, while Dr. Creed Haskins and several friends were on a hunting trip in Brunswick County in 1828, his camp cook, Jimmy Matthews, hunted squirrels for a stew. Matthews simmered the squirrels with butter, onions, stale bread, and seasoning, thus creating the dish known as Brunswick stew. Recipes for Brunswick stew have changed over time as chicken has replaced squirrel and vegetables have been added, but the stew remains thick and rich. Other states have made similar claims but Virginia's is the first."
So, what happened in Virginia since 1828 to turn Brunswick stew into such a treasured dish? No one can say for sure, but it was probably the Great Depression that stoked the phenomenon.
It was around then that Lillie Pearl Fearnow of Mechanicsville started selling her version at the Woman's Exchange in Richmond. Before long, that recipe was being sold at Thalhimers department store. To keep up with demand, two of Lillie Pearl's sons opened the Fearnow Brothers Cannery in 1946.
Since then, generations of Virginians have come to trust Mrs. Fearnow's recognizable yellow-labeled can as a quick way to appease the yearning that only a bowl of Brunswick stew can satisfy.
But, it's a noble use of an afternoon at this time of year to produce your own. Not complicated to make, a pot gently simmering on the stove allows the flavors to meld and the stew to properly thicken while filling your house with that unmistakable aroma.
Yes, we've lost the squirrel, but everything that made it truly a taste of Virginia remains.
Virginia Brunswick Stew
Ingredients (Serves 12)
3 tbs …………………….. vegetable oil
2 large …………………. sweet onions, chopped
4 ribs ……………………. celery, chopped
1 …………………………… rotisserie chicken, shredded
½ lb ………………………. country ham, coarsely chopped
1 28-ounce can …….. tomatoes
2½ quarts …………….. unsalted chicken stock
3 cups …………………… frozen corn kernels
3 cups …………………… frozen butter beans or lima beans
4 …………………………… Yukon Gold potatoes, peeled and cut into 1-inch dice
Salt and pepper to taste
Directions
Place the oil in a large soup kettle and heat to medium. Add the onions and celery and cook until translucent, about 8 minutes. Add the chicken, ham, tomatoes, salt and pepper, and stock. Bring to a boil. Reduce the heat to low, cover and simmer for an hour.
After an hour, add the corn, butter beans or lima beans, and potatoes. Stir well and continue cooking, uncovered, about 30 minutes until very thick. Serve immediately.