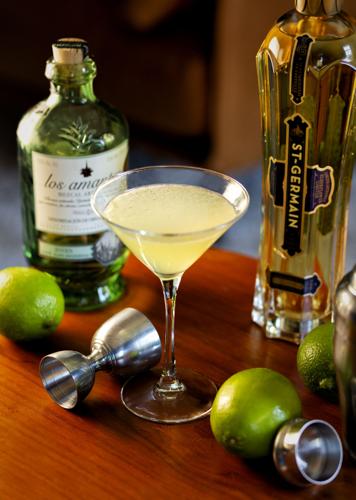 We used to drive Mustangs, Thunderbirds, and Impalas – strong, evocative names that attempted to capture the spirit of the cars. These days we drive Civics, Elantras, and an entire alphabet of European models.
They're nice cars, for sure, but I'm pretty sure my father never imagined a conversation outside of the military going like this:
"I don't care for the Q5 or the GLC, but that X3 is really nice."
"You're crazy. Why would you pay for the X3, when you could buy an NX 350 H?"
The same is true of cocktail names. Some are descriptive (whiskey sour), some are vaguely evocative (old fashioned) and some are just plain boring. Such is the case with one of my favorite cocktails – the Green Drank.
My wife and I have a habit of stealing drink recipes from bartenders every time we're on a trip. It's fun to bring back a little piece of the world with you. A few years back we were in Raleigh, North Carolina, visiting family when someone hipped us to The Green Light, a cozy, little speakeasy tucked behind the bookcase at The Architect Bar & Social House.
It's the kind of place you have to text for reservations and pray they have space for you. But when you get in, lord, they make some good drinks.
After checking out the menu, we settled on a tasty-sounding drink with a rather boring, on-the-nose, moniker. Yes, a Green Drank is green. But that fails to convey what makes it such an excellent cocktail.
Made with equal parts mescal, lime juice, St-Germain and Green Chartreuse, this delicious tipple offers the perfect combination of smoky, sweet, and tart. The name may sound like some disgusting college party mixer made in a trash can, but I promise, the drink itself is a delight.
Green Drank
¾ ounce ………. Mescal (try Del Maguey or Los Amantes)
¾ ounce ………. Green Chartreuse
¾ ounce ………. fresh lime juice *
Combine mescal, St. Germain, Green Chartreuse, and lime juice in a shaker and fill it with ice. Shake vigorously for about a minute and pour drink into a chilled cocktail glass.
*Fresh limes are key. Older limes are too tart and will throw off the cocktail's balance.
Clay Barbour is not a bartender, brand ambassador, or educator. He has established no award-winning cocktail programs. He is just an editor with a well-stocked bar and a willingness to share recipes.