In Richmond, Filipino cuisine – from plated to portable – finds its place
When it comes to Filipino food in Virginia, most people think of Hampton Roads and its mass of Pinoy eateries. Richmond? Not so much.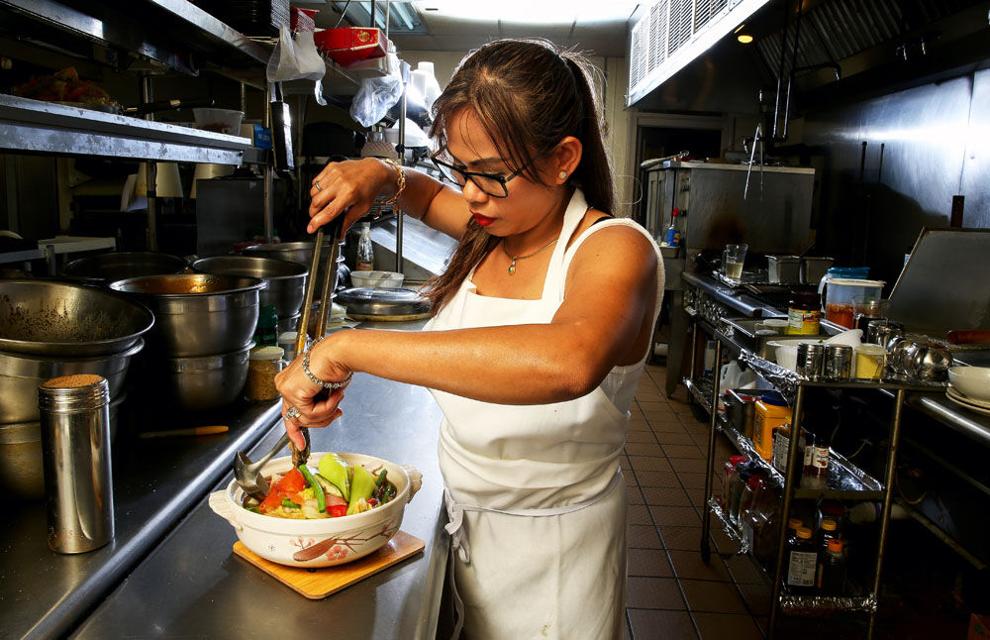 A decade ago, one of the only culinary trips a Richmonder could take to the Philippines required a drive to Midlothian. Wing Command, a solitary island in a strip-mall parking lot, was ostensibly a sports bar in 2009 when Mishel Tanega, who previously worked there, bought the place with her husband, Ernesto. Immigrants from the Philippines, the Tanegas decided – against the well-meaning advice from the previous owner – to augment the restaurant's wing-centric menu with Filipino food.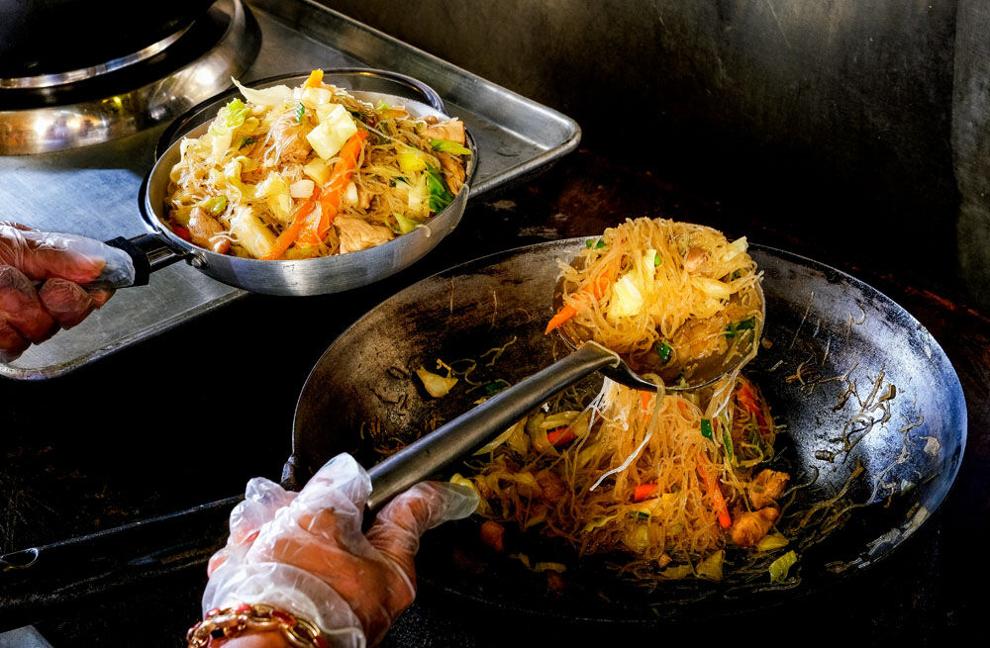 Mishel, whose Visayan style of cooking comes from her youth in Mindanao in the far southern Philippines, felt compelled to bring her native cuisine to the Richmond area. She and Ernesto began by introducing customers to basic dishes, like stir-fried pancit noodles and crispy rolls of beef-and-veggie-filled lumpia.
But as diners grew more comfortable with the genre, the Tanegas upped the ante with offerings like dinuguan, a velvety, tar-black stew of fatty pork and curdled pork's blood that tastes like liquified boudin noir; sinigang na manok, a chicken soup turned picklishly salty by the infusion of tamarind; and vinegar-steeped milkfish filets fried to an assertively crisp and craggy finish.
Mishel is now glad she didn't heed the skeptics. "We just followed our gut," she says. "And here we are, still in business."
This new wave of Filipino cuisine first hit Richmond in 2018. In August that year, chef Ian Merryman opened Tiny Victory – a hipster tattoo parlor of a restaurant in the heart of downtown, known for its modern, at times playfully edgy, takes on Filipino food. Though the restaurant closed in 2020, Merryman's colorful vision of traditional dishes, as a non-Filipino chef, was no doubt a useful foray for many diners new to the genre.
These days the cuisine is finding its place in Richmond, thanks to local chefs and restaurant owners working to bridge the culinary gap in the River City. And it's about time they did.
Though Hampton Roads is home to nearly half the Filipinos living in Virginia, followed by Northern Virginia, there's a strong Pinoy presence in RVA, according to Drew Armada, vice president of the Filipino American Association of Central Virginia. And the population is growing.
As Richmond's culinary offerings expand to reflect the prominence of its Filipino community, diners are becoming more versed in Filipino cuisine. There's a great deal to learn about the subject, too. Three key ingredients – soy, garlic and vinegar – form the backbone for much of the cuisine, but it also entails a myriad of regional styles, as well as Spanish, Chinese, Arabic and Malay influences, that impart far more variety to it than the term "Filipino cuisine" suggests.
Filipino chef Mike Ledesma debuted Perch in 2018, a month after Tiny Victory opened. The restaurant is an elevated, Pacific Rim-inspired dining spot (think: pineapple brunoise), not a Filipino restaurant. But at its core are a raft of influences drawn from his native culture.
Perch's contemporary space in Scott's Addition, with its breezy ceilings and vibrant aquatic-blue walls, hardly brings to mind an old-world nipa hut restaurant from the Philippines. Examine the space more closely, though, and you'll notice tiles that evoke the pattern of woven banig mats.
Filipino influence is deeply embedded in both the food at Perch and the selections for Ledesma's latest fast-casual restaurant, InstaBowl. Essential flavor profiles and ingredients are integrated, at times softly, into the menu. You just have to look for them.
What gets billed as "ceviche" is actually a kinilaw of raw snapper, zapped with cane vinegar and swirled into a milky vortex of coconut. "Braised kale" is a riff on laing, substituting local greens for traditional taro leaves, thickly simmered in a vat of vinegar-infused coconut milk. And brunchtime "benedicts" arrive on sweet rolls of pan de sal based on the recipe used by the Ledesma family's bakery in Batangas.
On the heels of Perch and Tiny Victory, convoys of nomadic upstarts rolled into town, highlighting different aspects of Filipino cuisine. Ledesma and Merryman, through collaboration dinners at their restaurants and cultural events organized by the FAACV, did their part to support these up-and-coming chefs.
"Mentoring the Filipinos coming up the ranks" like these first-time food truck owners, says Ledesma, is the key to ensuring the long-term success of Richmond's Filipino food scene.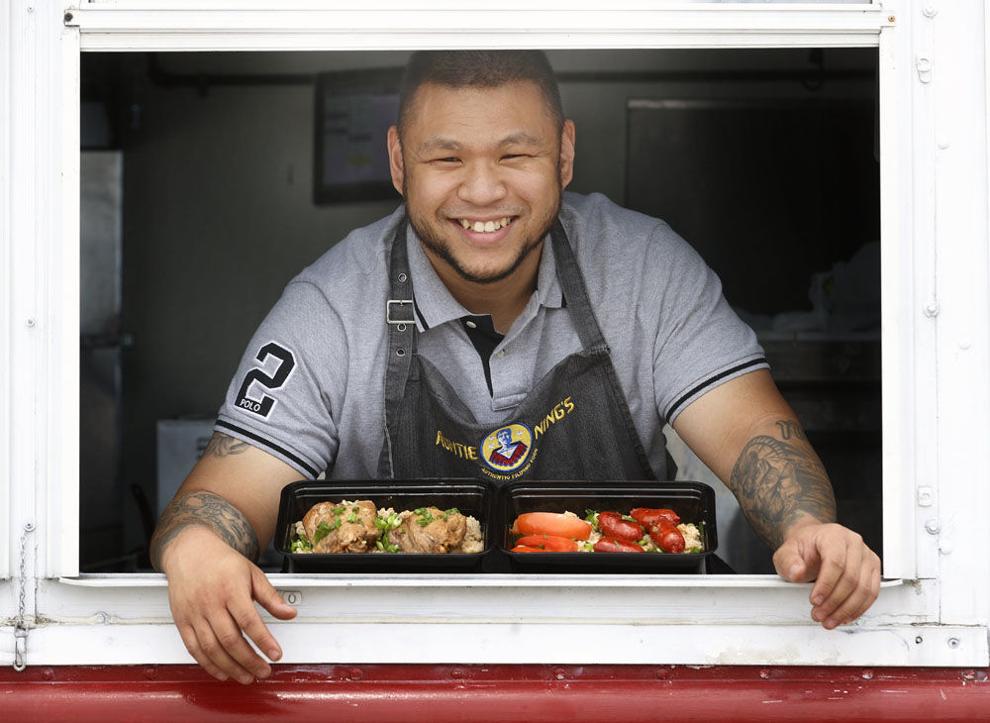 Frederico Enriquez, who has staged a number of FAACV events with Ledesma, had never cooked or run a restaurant before opening his food truck, Auntie Ning's. He worked off memories of the food he ate growing up around Virginia Beach and Norfolk, where his family owned one of the region's original Filipino eateries.
In 2019 Enriquez moved to Richmond and quickly noticed the scarcity of homestyle Pinoy fare. So with childhood friend Zach Brenner and Brenner's roommate, Justin Shaw, they started selling pancit and lumpia at the South of the James Farmers Market. Eventually the trio added other staples to their menu, like chicken adobo – the unofficial national dish of the Philippines.
Ning's pancit noodles are enriched with beefy stock and flickers of citrus, while the lumpia, fried cigarillos of peppery beef and aromatic vegetables, pack a surprising bulk of flavor into their tiny, slender figures.
In dishes like adobo and fried lechon kawali, those quintessential elements of soy, garlic and vinegar are front and center, converging in a triple helix of salty, sweet and sour in the adobo sauce and pork belly marinade.
Ganthel Vergara, meanwhile, had some cooking experience, having worked at his grandma's restaurant in Pasig, Manila. But he, too, was a total stranger to the restaurant business in the U.S. Before moving to Richmond to launch his Ato's Sisig food truck, he had been a paramedic in Portland, Oregon.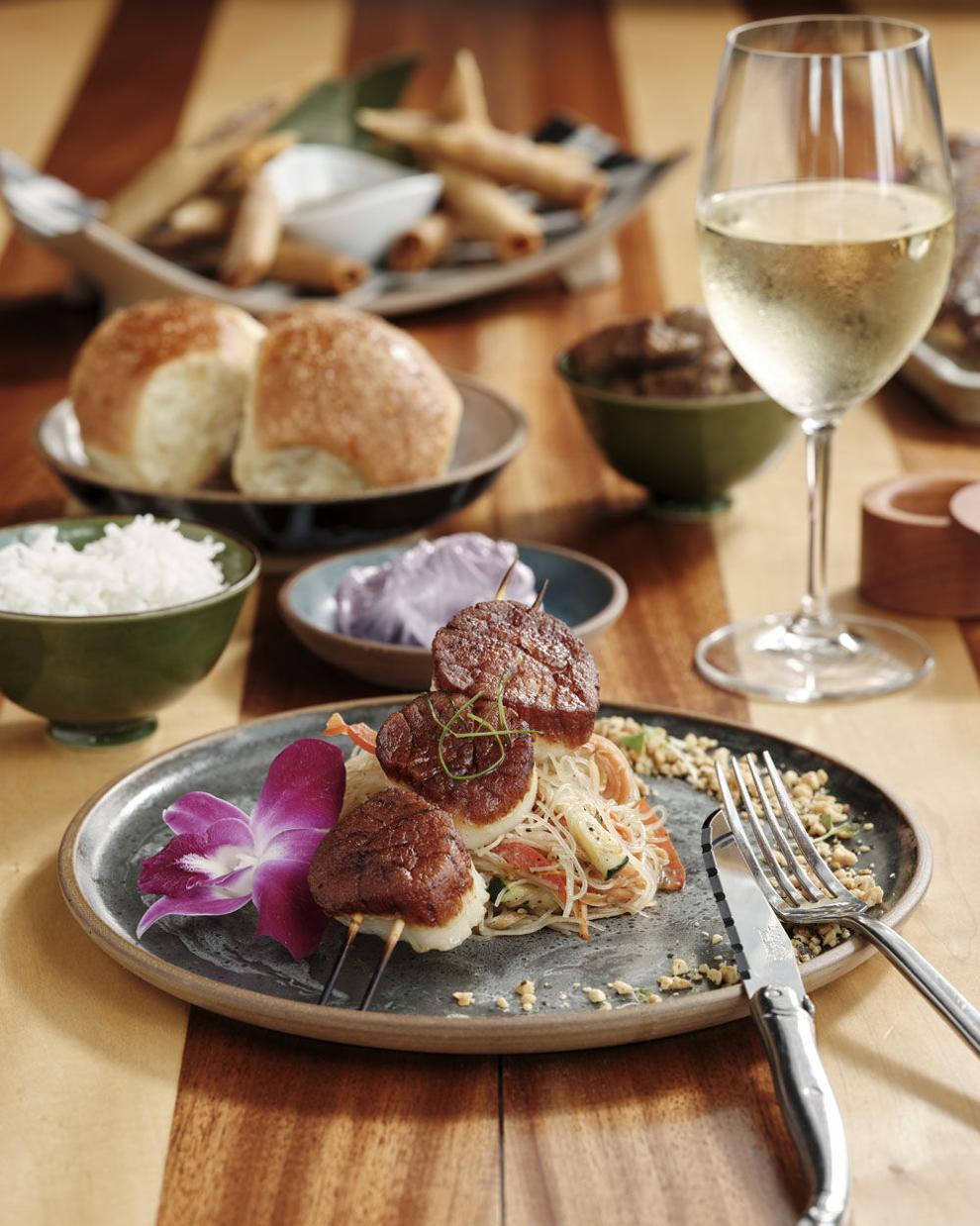 Like the Ning's folks, Vergara got into the food truck game – with advice and encouragement from Ledesma – because he felt there were aspects of Filipino cuisine still missing from the Richmond scene. "Adobo, pancit, lumpia – that's all everyone knows," he remembers thinking.
Determined to prove that Filipino food has more to offer, Vergara began in October 2018 to stage popups at Tiny Victory and people's houses, including kamayan dinners where guests would use bare hands to eat princely spreads of sisig and other delicacies off flaps of banana leaves. He finally opened Ato's – an acronym for his three children: Alexandra, Tomas and Ondrea – in 2020.
Vergara's food truck centers on inihaw (grilled items) and other specialties. Grilled pork skewers are basted in a sweet soy and banana ketchup-based barbecue sauce, buoyed by a spicy, vinegary sawsawan for light dipping. Chicken inasal, coaxed with garlic, coconut vinegar and kalamansi to give it an undertow of citric tanginess and showered in fried chicken-skin confetti, is flavorfully charry. And a mishmash of diced pork belly and butt, chicharron croutons, onions and peppers, tinged with Datu Puti cane vinegar, comes together for a sisig that approximates the Pinoy version of carnitas.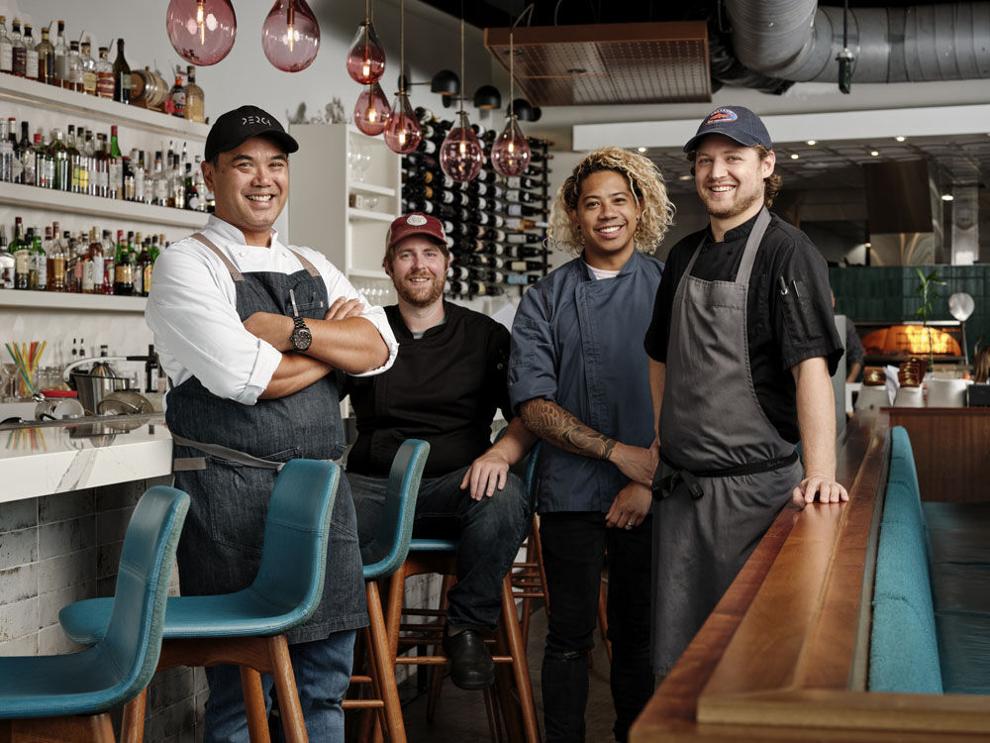 Ledesma is hopeful when he sees this growing number of chefs translating Filipino cuisine on multiple levels – from plated to portable, fusion to traditional, elevated to rustic. He says it's the diversity of ways in which the cuisine is being represented that has contributed most to the success of Richmond's fledgling movement in Filipino cuisine.
Ning's Enriquez agrees – and his new brick-and-mortar space, in the Market on Meadow in the Fan District, is a sign of the growth. As the region's food and restaurant culture evolve, so, too, has its willingness to embrace new ways of eating. Diners, he says, have become "very open-minded – enough to accept new foods into their scene."