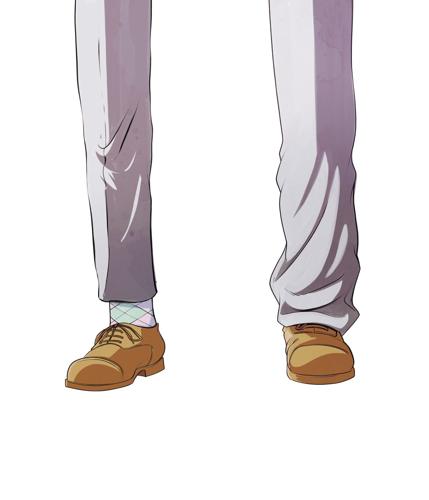 Let me paint a scene for you. A man walks into a party dressed in a new suit. He has spent quite a bit of money on it and is clearly proud. But despite its fine cut and expensive material, you cannot take your eyes off the mountain of fabric gathered at his feet.
This is what's known as a full break, or what I like to call the "yeah, whatever" cut – as in, when the tailor asks if I want a full break, I look away from my phone long enough to say, "Yeah, whatever."
Women have long understood the importance of details when it comes to fashion. Men? Let's just say I have seen enough male co-workers with worn belts and cheap, beaten-up shoes to know that we often ignore them.
The break, as it is known, is the fold in the fabric at the bottom of the pant leg as it rests on the shoe. There are essentially four types: full break, half-break, no break and showing ankle.
With a full break, a substantial amount of fabric rests on the shoe. A half-break offers a slight bulge. No break means the fabric kisses the shoe. And a bare ankle is exactly like it sounds.
Unless they come from somewhere like Charleston, South Carolina – where men of all ages love to roll with naked ankles – older men tend to favor full breaks. But I am here to advocate for an elimination of the full break entirely, and to urge my fellow middle-aged men to embrace a world with slimmer legs – and if you are feeling bold, visible socks.
I understand the hesitation. My generation grew up deathly afraid of high-water pants. The look implied poverty to classmates, many of whom who were not above teasing people less fortunate.
But pants are cut slimmer these day, and the truth is, they – and you – will look better and more hip if you start letting a little sock show. Lean into it and get some crazy socks.