Naomi McCavitt keeps a dream book of sorts - all the things she'd like to one day bring into the world. She calls it "The File."
Maybe this includes a transparent human body whose organs and capillaries bloom into a verdant copse of roses and butterflies; or a spread-winged owl whose shadow manifests as a dark gash of flowers; or a field of symbiotic luna moths and persimmons, separated into discrete planes like the set to an opera house.
Each idea waits only for a home, where it will be transformed into an essential part of the space it inhabits.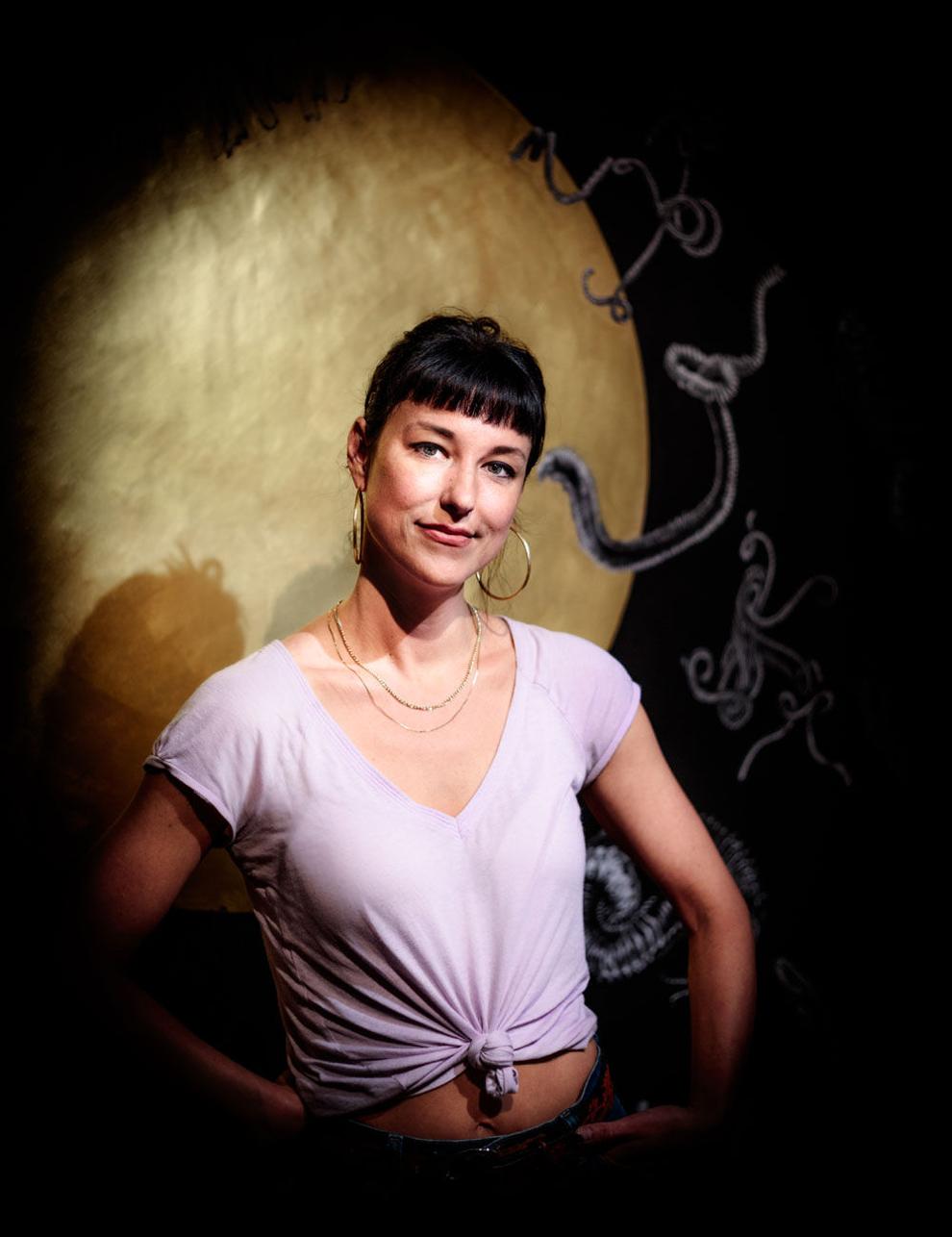 At McCavitt's company, Thicket Design, the Richmond artist has forged a career that combines fine art with bespoke decoration, painstaking naturalism and the magical surrealism of Rene Magritte or Frida Kahlo.
Most of her work is made on commission - filling the wall of a bedroom, or a stairwell in a restaurant. But each mural or wallpaper contains McCavitt's singular vision of the natural world. Slowly, she has been transforming parts of the public landscape into her own densely imagined ecosystem.
At Common House cocktail bar, three stories of intricate fauna ascend the spoke of a tree, from deer to climbing bear. The Children's Hospital of Richmond at VCU keeps an animal menagerie from Thicket on its walls. The foaming beer glasses at Hardywood West Creek come etched with a regal duck and nervous turtle, each drawn by McCavitt with meticulous anatomical accuracy.
As in a Max Ernst dreamscape, her murals and wallpapers teem with impossible life - more life, really, than actual life contains. And while she consults zoologists and botanists to attain pinpoint accuracy, her works' intensity and stark juxtapositions give them a subtle sense of the askew.
"I'm a real surrealist at heart," she says. "When you're juxtaposing things, and putting things together in a way that's just slightly off, that makes it interesting to me."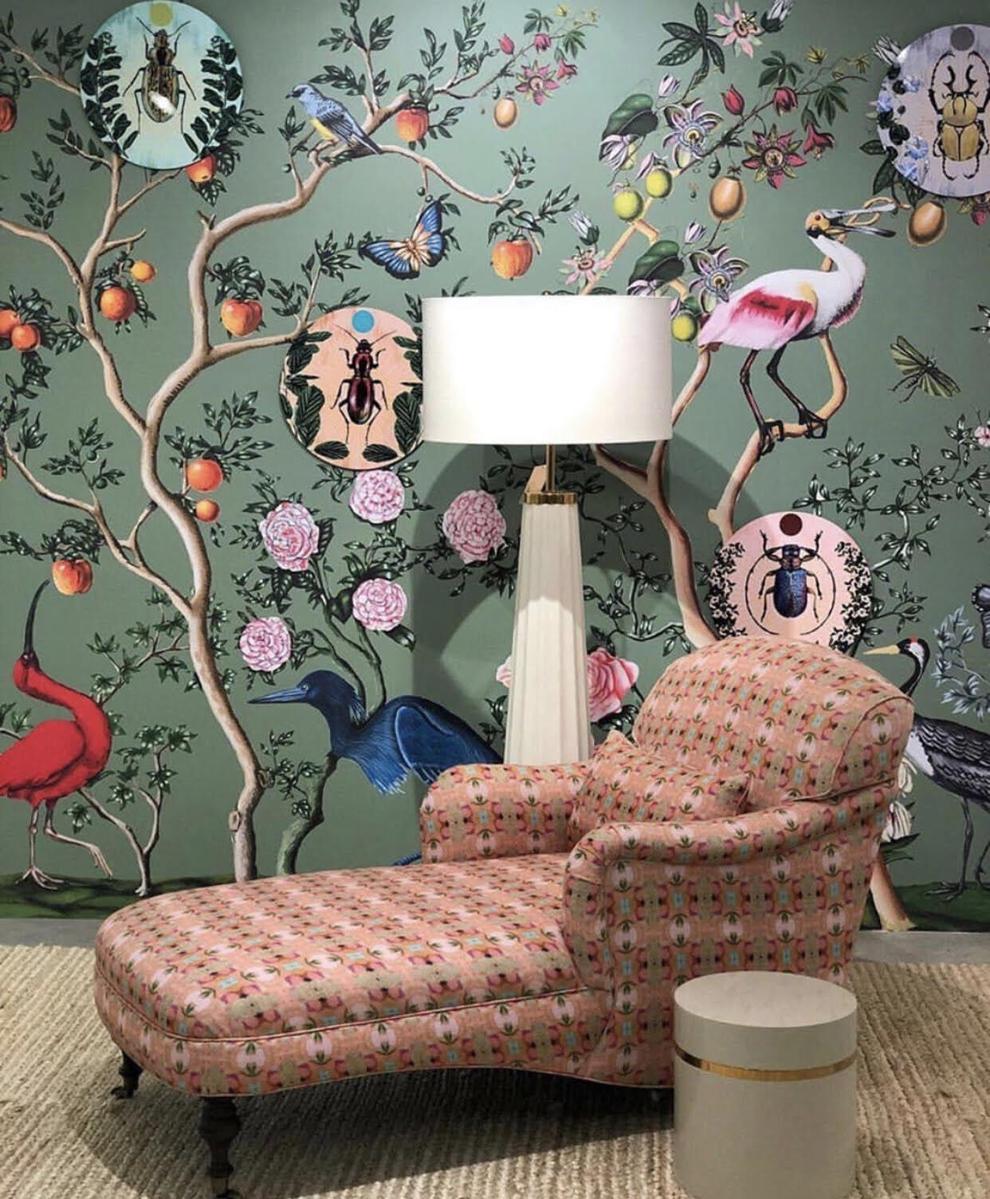 McCavitt traces her inspiration to an unlikely source: the renowned American naturalist John James Audubon. She credits him as an early, and perhaps unintentional, surrealist.
"He was a hunter, and he would go out and shoot the birds and then bring them back to the studio and arrange them with pins and paint them. That's part of why they look the way they do: They're disjointed," she says. "Their positioning doesn't look particularly natural."
Her interest in the natural world started as a child, while ping-ponging between Richmond and the West Coast. Humans are nowhere to be found in anything McCavitt creates. While enrolled in a graduate art program in San Francisco, she became obsessed with the unnatural quality of the old naturalist painters - Europeans who set about committing the new American landscape to canvas.
McCavitt made collages and paintings inspired by the old works. And oddly enough - surreally, if you prefer - her work eventually attracted the attention of the Department of Game and Inland Fisheries in Virginia.
"They reached out to me and said, 'Hey, can you do like 50 species illustrations?' " she says. "I ended up becoming kind of a contract employee of theirs, churning out animal paintings of Virginia native species for them. And that's how I began working with biologists."
She consulted with the department's stable of scientists, making sure each animal or plant conformed precisely to its natural descriptions.
"If I did a bear painting, they'd have bear biologists who'd check my work and say, 'Oh, no, this one's too fluffy,' " she says.
This instilled in McCavitt a deep fealty to the precise shape of the natural world, not to mention a thick Rolodex of scientists and a new way of working. Rather than place her art on a gallery wall in the hopes someone will buy it, she makes it fit the specific needs of a client's space. It's the Medici system of patronage, applied to the walls of a home or restaurant instead of a Renaissance chapel. This approach required a subtle shift in the way she thought about her work.
"The composition is primarily coming from my love of interiors and interior design, which I didn't used to think was related at all to my fine-art work," she says. "My company, Thicket Design, was born out of realizing one day that the two things could be married."
When a potential client comes to her with their own personal obsessions, it begins a subtle back and forth between artist and patron. Perhaps the client is in love with tigers. Perhaps, if they are a physical therapist, they are looking for something that resembles an anatomical model, with visible veins beneath the skin. And so, McCavitt dips into "The File."
Eventually, the two visions converge, but often with new significance. The flowers and butterflies McCavitt painted atop that body allude to rebirth, the same way the body will eventually feed the soil.
When the Hermitage Museum in Norfolk reached out to McCavitt for a mural that would merge environmental and social justice issues, she thought of the Kodi people of Indonesia - who gather after a full moon each year to pray to the seaworm goddess, and gather swarms of palalo worms for sustenance.
She filled the walls of her apartment with drawings of the worm, making version after version - consulting biologists, anthropologists and abstruse academic papers - before finally creating a pair of immersive wallpapers that made the writhing worms into things of decorative elegance, bathed in golden hand-painted moonlight. In its prettiness, it is strange.
The piece was hung at the historic museum in June. In some ways, for McCavitt, the work is a validation of her approach, which dissolves any distinction between realism and the unreal, between fine art and decor.
"That's sort of the trick at the museum: I convinced them to let me do something that is basically an interior design installation in their space. It is decorative, but it's also fine art because of what's behind it," she said. "My feeling is, I don't really discriminate between the two. I just mix everything together."