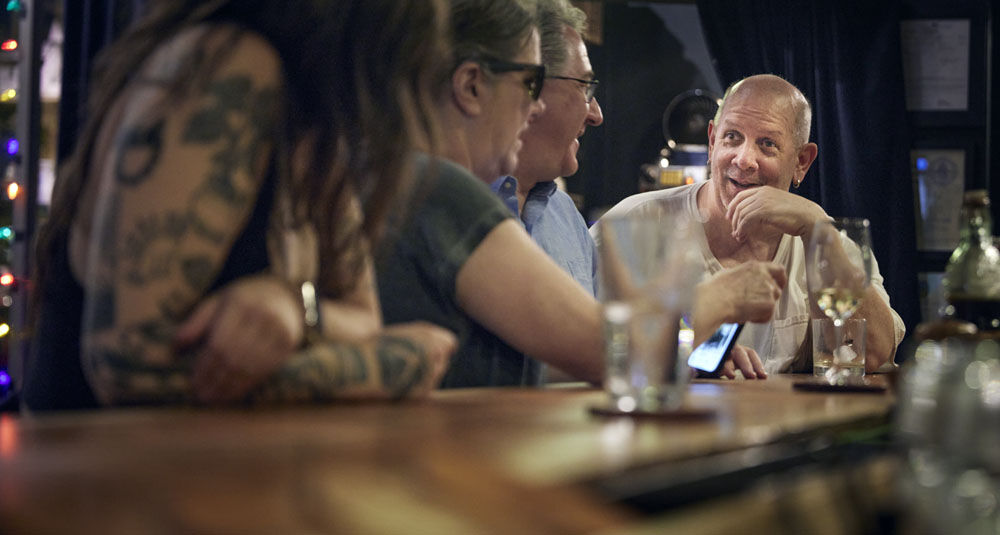 A Tidewater culinary icon returns with his most personal restaurant yet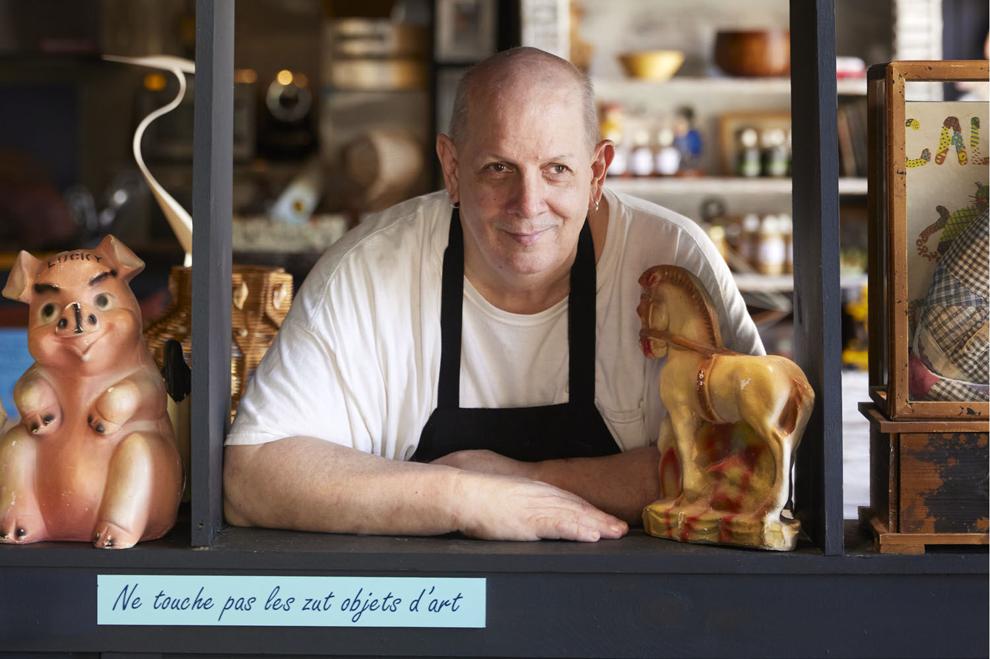 It's 4:25 on a Friday afternoon in downtown Norfolk, and chef Sydney Meers is bent over the bowl of a big, black mixer – in no particular hurry – preparing the filling for a coconut cream pie. On the 10-burner stove behind him simmers an enormous stockpot filled with green tomato compote made with fruit he gleaned from a field on the Eastern Shore.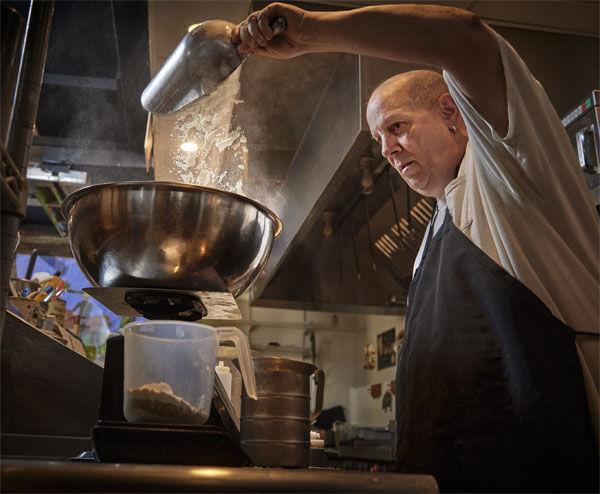 Meers slides the pie in the oven. "There you go, baby," he says in a slightly squeaky voice, seasoned with the South. "You just cook away and I'll see you in a few minutes." Then he turns toward a honey-colored chopping block and wipes his hands on his apron. "Now, pork pies."
At 70, Meers is a Tidewater icon. Over the past 30-plus years, the James Beard semifinalist has owned some of the most beloved restaurants in the area. But his new spot, Syd's FishPig Café, is more personal. Intimate.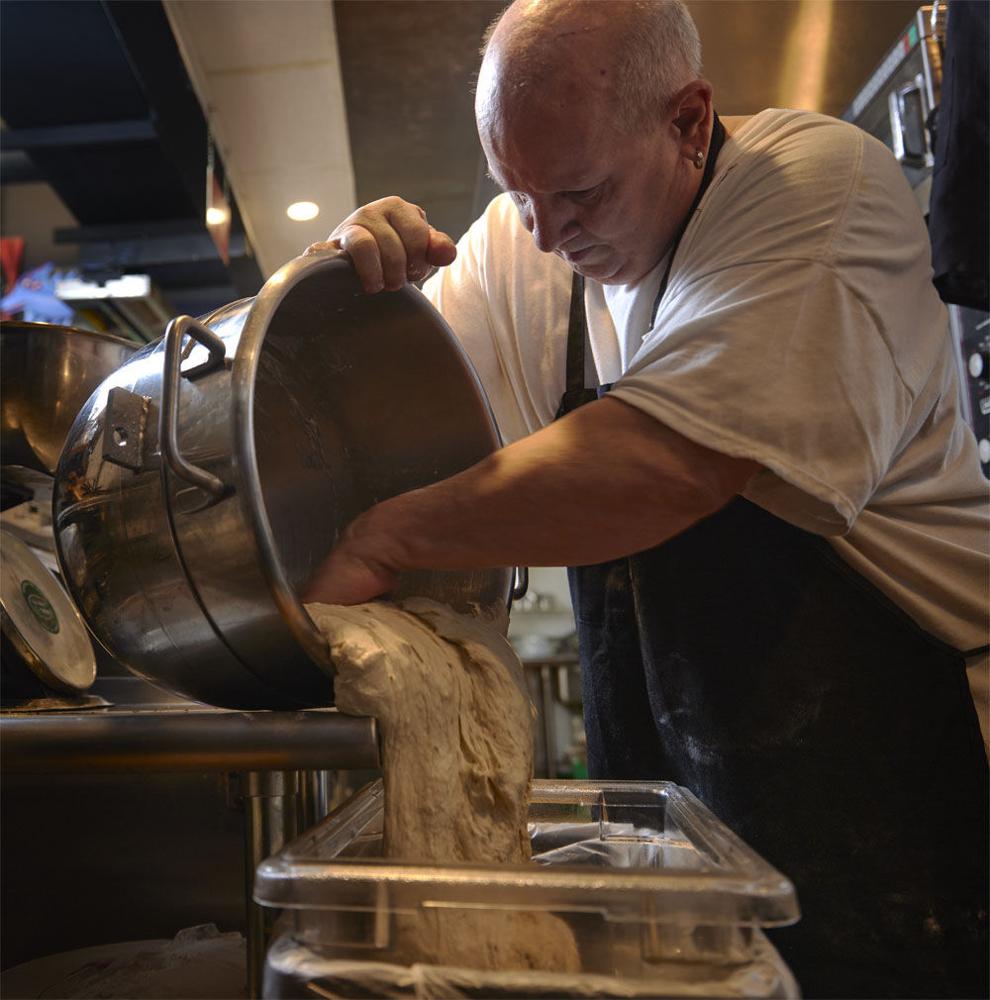 FishPig, which opened in March this year, seats 26 in the dining room and eight more at the bar. Built in a historic arcade with midnight blue walls and exposed ductwork, it feels a bit like a Meers museum, filled with his own ribald artwork and pieces of his past.
Worth a look is the black-and-white photograph of Johnson's Cafe in Senatobia, Mississippi. Taken around 1955, it features a restaurant with the words "Air-Conditioned" emblazoned over the door – and with a man-sized ice cream cone at the entrance.
It was there, as a toddler, that Meers crawled underneath a prep table to watch his grandmother, Winnie Lee Johnson, and her line cooks dish burgers, BLTs and fried-everything while his mother waited tables and his grandfather ran the front of the house.
"Winnie Lee," he says wistfully. "What a girl she was."
The spirit of Winnie Lee swirls all around her grandson's cafe, although FishPig lacks the frenetic pace of that Senatobia hotspot or, for that matter, the current crop of culinary peers. Meers considers FishPig more of a social salon. In fact, most every entree comes with "a side of Syd," who wanders the dining room at every lull, whiskey-filled coffee cup in hand, stopping to chat with longtime regulars as well as newbies. His staff, most with him for decades, keeps things humming smoothly.
The menu is an ever-changing mélange of seasonal neo-Southern dishes from his three prior Tidewater restaurants. That includes etouffee made with smoked tomatoes, oysters, shrimp and redfish from his first place, the acclaimed Dumbwaiter, circa 1989; and Pork-o-Rama, a pig extravaganza from his last restaurant, Stove, which closed in 2018 when Meers endured a second bout of retirement.
He has also added a few newcomers: a roasted Monte Cristo sandwich made with his sausage meatloaf, as well as "the visiting hush puppies" – a highbrow riff on the old standard, made with a 17-year-old sponge starter combined with shrimp and his D-Lish Sauce, what he calls the "world's only catsup vinaigrette."
The menus are also layered with Winnie Lee. By the time she retired from her cafe, Meers was a high school stud (check out his letter jacket dangling at FishPig's open kitchen counter). Still, he spent hours in her half-acre garden, pulling weeds and tamping down leaves between rows.
During the day, "she'd get down there weedin' and couldn't get back up," he says. "So she would just sing and wait because she knew that I'd come by to check on her, help her get up. And then we'd go into the house with a basket full of stuff she'd picked, and we would cook up a storm."
Winnie Lee gifted her grandson all she knew about fresh food and making pies, fried chicken, bread, biscuits and more. She expected him to follow suit, saying "it's part of your heritage. You have to pass it on."
That slightly sweet pecan pie that sometimes appears on the menu? The thick shortbread crust cradling fruit cobblers? That's all heirloom Winnie Lee.
In Senatobia, Meers' first restaurant was the Calico Cat, which he and his parents ran in the downstairs of an uncle's Victorian mansion. Somewhere in FishPig there's a glass case where The Cat's mascot is enshrined, covered in fabric scraps sewn together by his mom.
Meers found his calling at The Cat, but Senatobia was dry. Fine dining meant bacon on a well-done burger.
"All that stupid (stuff)," he says. Only, he doesn't say "stuff" – Meers' colorful vocabulary is legendary.
So, he closed The Cat and moved to Birmingham, Alabama, where he and some kin opened a barbecue joint. That ended abruptly when the vice squad busted the place. Something about prostitutes. (It's a good story. Ask Meers when he wanders by your table.)
Upon the advice of another uncle, Meers joined the Air Force, where he worked as a structural repair specialist. He traveled to Europe and Korea. In the latter, he once ate dog tongue from a street vendor and proclaimed it "fluffy and delicious."
While stationed stateside in Hampton, the Air Force sent him to culinary school at Johnson & Wales University. To his surprise, the instructors were teaching many of the lessons Meers had learned from Winne Lee. "How did she know this stuff? Well, when she passed, I got all of her cookbooks. Guess what her main book was? Not Betty Homes and Crocker, or whatever they call that (stuff). It was (friggin') James Beard!"
Culinary degree in hand, Meers left the Air Force and went to work at The Trellis in Williamsburg, where he learned from, and became friends with, multiple James Beard honoree Marcel Desaulniers. He followed that with stints at Cajun mainstay Chappell's and at the Lazy Lobster, both of which were owned by the late Monroe Duncan, the chef credited with bringing fine dining to Tidewater.
In 1989 he went out on his own, opening the Dumbwaiter – a raucous three-story affair not far from where FishPig now sits. It was an instant success. "I made a mint," Meers says.
But problems with the lease and the upheaval surrounding construction of nearby MacArthur Center mall killed his business. He flirted with retirement for the first time and then in 2003 opened Cowboy Syd's in Newport News. Why cowboy?
"Cowboys," Meers says, "herd cattle from one place to another, and by the time they stop to eat dinner, they're eating whatever is indigenous to that area, which is kind of the beginning of farm-to-table. I keep getting different stuff, trying new things, eating new foods and moving my culinary life on. It's my journey. I'll always be the cowboy."
In 2006, Meers opened Stove, a 32-seater in Portsmouth where the tiny Cougar Lounge was ringed in wildebeest, buffalo, antelope and other big-game heads. A lease dispute, plus new tolls on the tunnel between Portsmouth and the real money elsewhere in Tidewater, prompted him in 2018 to retire once more. But within a year, he was ordering floor-to-ceiling velvet drapes and tearing out walls for FishPig.
"I wanted to end with a cafe like Winnie Lee had," he says.
It's just shy of 6 p.m. when a scrum of millennials from the tony high-rise apartments down the street fills half of the dining area and every seat at the bar. Many of FishPig's diners are regulars Meers has been feeding for decades. But this new location has enticed a new generation of fans.
"It's showtime," Meers says, swirling a small pan of gravy as orders flow from a black box above the kitchen chopping block.
The millennials choose a round of craft cocktails and Meers' build-your-own "infamous cheese tray," served with crusty slices of bread that the chef baked when he arrived at work this morning at 9.
An order for Pork-o-Rama Grande comes in. It's a hugely popular smorgasbord of a hamburger-sized sausage patty that Meers grinds himself, slices of signature "smoochie bear ham" that he cures in his own smokehouse, a petite pork pie cloaked in Winnie Lee's crust, roasted veggies from his Tuesday foraging trip and an artistic schmear of Cowboy Syd's World Famous D-Lish Sauce (the catsup he invented, offers for sale … and is constantly sold out of).
"Are you the famous guy I saw on TV?" A longtime regular named Bob lobs the question across the kitchen counter.
He's referring to Meers' recent side hustle, the local PBS affiliate's debut of "Cooking With a Southern Flame." In the pilot, the chef traverses the Eastern Shore gathering produce and seafood, then makes dinner for the farmers and watermen who supplied the foodstuffs.
Later, during a lull, Meers takes a seat in his "lounge," a few comfortable chairs set around a rustic butcher block table, a gift from yet another customer-turned-friend. He spots a man walking by the picture window with two huskies on leashes – Rauth and Genghis Khan. Meers reaches into a nearby cabinet for his stash of dog biscuits.
"This is why I came back," he says, holding a biscuit to Genghis Khan's nose. "I missed all this, all this energy. This is my home."