Garage finds new life for Richmond branding agency
In 2018, when Jason St. Peter bought his home in the historic Sauer's Gardens neighborhood in Richmond, what drew him wasn't so much the 1924 Tudor house. It was the garage, a brick charmer along the rear property line.
St. Peter is founder of Think, and his branding and creative agency had previously occupied commercial spaces that he modified to feature open floor plans, which promote collaboration. But with his office lease set to expire, he decided he wanted to own his next workspace.
At the corner of Fitzhugh and Sauer streets, St. Peter found that he actually could bring work home – as in, the ultimate home office for him and his colleagues. Amid a pandemic that has redefined the relationship between home and work, St. Peter's morning commute is now just a brief stroll across a small courtyard to the reimagined garage, with an adorably affectionate rescue named Rosie in tow.
The property is in the heart of Sauer's Gardens – named for C.F. Sauer, whose flavorings company is nearby. The neighborhood is filled with homes dating to the 1920s, and St. Peter knew that the garage renovation should fit the primarily residential area.
"I wanted to add to the neighborhood, not change it," he says. "Older residents will introduce themselves and say they think what an amazing job we did, keeping the look and feel of this project" true to its surroundings, he says.
"I figured I could buy a new house, do construction and renovation, take out a loan to bundle it all together, and pay myself rent" for the garage office, he says. "It makes more financial sense, and now [the garage] is an appreciating asset for the property."
After the mid-2018 purchase, St. Peter expected to enlarge the garage on one level. But he quickly discovered that city regulations prohibited an expansion toward the street, beyond the house's footprint. So if the building couldn't go out, it had to go up.
"We had to get creative with the architectural firm, the city – move a lot of pieces around," he says.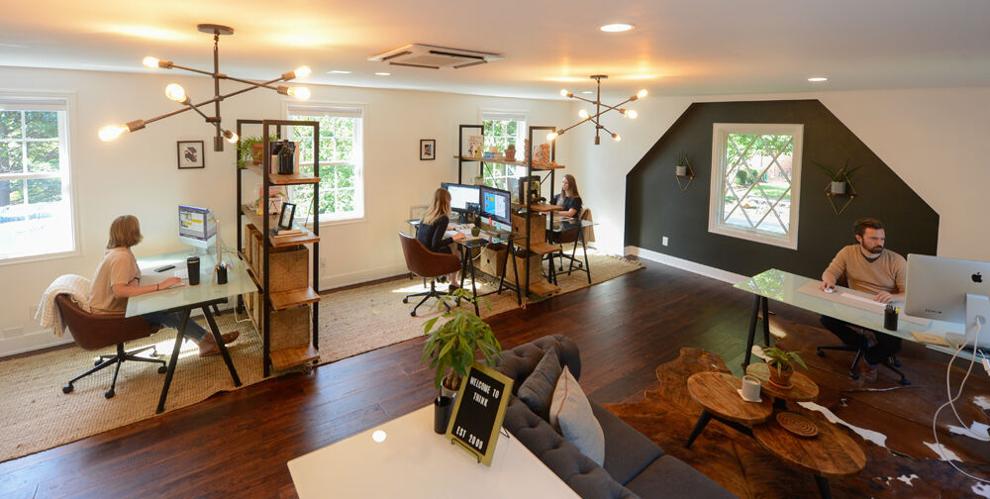 Working with Bob Himmel of HimmelHume Architecture and Bill Kastelberg from Mako Builders, St. Peter came up with a new plan, one that embraced the original garage while modernizing and expanding the space – to 1,000 square feet – for practical use. Construction began in January 2020, just ahead of the pandemic's arrival, and finished that June.
Because the original structure couldn't support a second floor, a first-floor addition extended the original footprint away from the street and included upper beams to allow for a first-floor kitchen, a half-bath and staircase. The upper floor is completely open and serves as the primary workspace for the four-person Think team.
St. Peter and account director Christine Winder collaborated on the interiors. They relied on Caravati's, the renowned Richmond-area architectural salvage firm, to source period-appropriate doors for the interiors and to make choices for fixtures, furnishings and wall colors that respected history.
"It was important that all the new stuff we were having wasn't new," St. Peter says. "We wanted everything to be relevant to the age of the building. We found 100-year-old barn doors … and we've used [Benjamin Moore's] Charleston Green [in places], which is in the house."
They also hung wallpaper, from Polish graphic designer Tomek Jedynak, in the bathroom; the bold botanical pattern is both classic and fresh.
Earlier in his career St. Peter worked for a large company – one "where you have meetings just to have meetings," he says. For Think, he wanted to focus on relationships, both with clients and among the staff.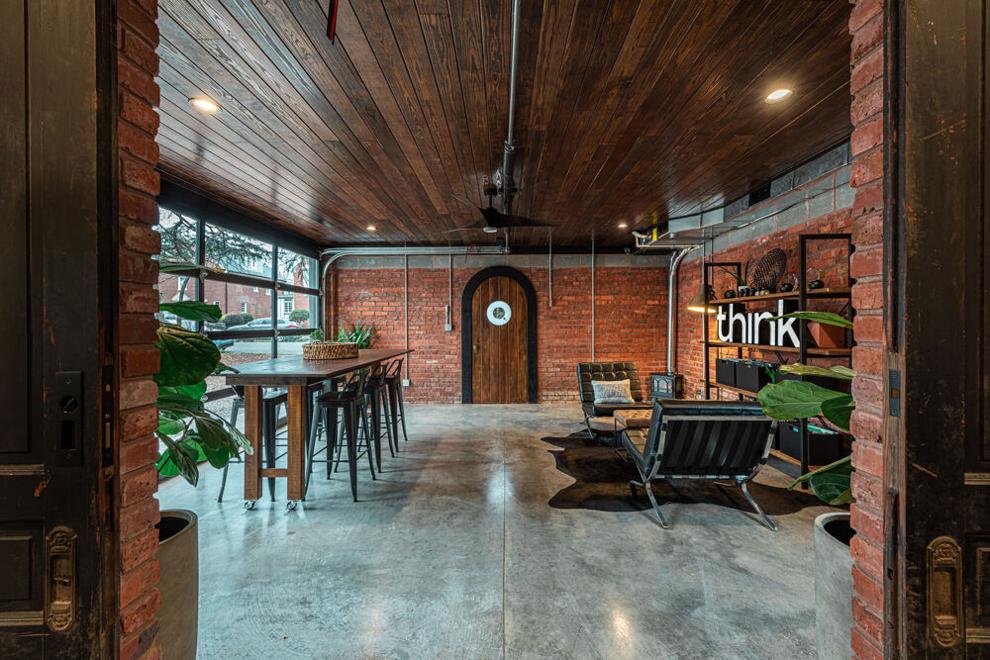 Now fully vaccinated and back in the office full-time, the team sits within easy reach of one another on the garage's open second floor. A couch and coffee table are nearby, as is a wall-mounted TV. The room is full of light, thanks to custom Pella windows; the one facing the street even has diamond-shaped panes of glass, in keeping with the Tudor style.
Working remotely through the depths of the pandemic was manageable, St. Peter says, but not ideal.
"It's like being in a band," he says. "You could all technically record your instruments and put the parts together, but you're not making music together. Working remotely feels more process-oriented and less relationship-driven. The tone is a lot friendlier when we can talk across the larger room."
Shared workspace also exists downstairs, in the garage's original parking bay, in the form of an 8-foot table that St. Peter made from leftover LifeScapes Hevea Komodo wood planks. Nearby are Barcelona chairs for conversation. A new garage door made of glass panels lets in abundant light and can be opened to the outside.
"I want it to feel nice but also durable," St. Peter says of the space. "With the concrete floor, it's very easy to clean up. We wanted the blend of having respect for the historical aspect mixed with contemporary design."
Of course, homeowners have long used garages as workspaces – for home projects such as painting old furniture, potting plants and the like. For St. Peter, a two-story garage workspace – for "work" work – fits the ethos of Think.
"Trying to hide the fact that it's a garage feels unnecessary," he says. "I've always run the company by the book, but I don't really take other people's advice about workspaces. We're a creative company – this is what we do for a living."
Paula Peters Chambers is a writer in Henrico County. The former journalism professor has written for Discover Richmond, Richmond Magazine and other titles.