After more than a year of online meetings, conference calls and working in our pajamas, of self-medicating, snacking and sleeping in, of masks, anxiety and frustration, we have been emerging from our compounds with some rightfully earned cabin fever.
There is nothing quite as rejuvenating as leaving the hustle behind and disappearing into nature. But if sleeping on the ground, bathing in bug spray and burying your poop feels unappealing – in other words, if you don't want that trip into the wild to be too wild – we have a suggestion.
From fun cabins to fancy tents, glamping – a portmanteau of glamour and camping – is one of the more popular trends these days in outdoor excursions. Virginia has some great destinations, and here are three worth checking out.
Primland Resort's Treehouses

Sitting on about 12,000 acres in the Blue Ridge Mountains, some 70 miles southwest of Roanoke, is Primland Resort, a five-star retreat built in the mid-2000s by French-Swiss billionaire Didier Primat.
The resort, which was meant to resemble the historic estate homes of the Vanderbilts and Carnegies, is centered on the Lodge and its soaring great hall. Abundant amenities include a PGA-quality golf course, domed observatory, classical ballroom, private movie theater, spa, heated indoor pool, brewpub and a fine-dining restaurant. There also are standalone cottages and cabins.
But that's not what you want to hear about in this story. Nope. What we are here to discuss is the trio of luxury treehouses added in the early 2010s. Designed and built by European treehouse guru Alain Laurens, the treehouses – Golden Eagle, Barn Owl and Cooper's Hawk – allow visitors to immerse themselves in Primland's remote natural beauty without giving up some of life's niceties.
Laurens scoured the Primland property looking for perfect locations and trees. His favorite was a towering, centuries-old oak jutting from the terminus of a 3,000-foot ridgeline overlooking a sea of mountains.
The resulting Golden Eagle seems plucked from Animal Planet's "Treehouse Masters." The one-bedroom, one-bath structure is cradled in the limbs of old oaks and accessible by way of a 50-foot-long gated wooden bridge.
The chic-rustic interior is made entirely of red cedar and features beautiful wood floors, exposed beams, a tub backed by a picture window and more. A sliding glass door in the bedroom opens onto a spacious wooden deck with views of rolling mountains and the Dan River some 1,300 feet below.
While There | There's hiking and cross-country mountain biking on more than 20 miles of private trails. The Talbott Reservoir, fed by the Dan River and part of its eponymous gorge, offers kayaking, paddleboarding and wildlife viewing. Other options include horseback riding, clay pigeon shooting and tomahawk throwing classes. Up the ante with a side-by-side ATV rentals to explore Primland's extensive trail system.
Sandy River Outdoor Adventures

A half-dozen tall white tipis stand in a grassy knoll amid a landscape dominated by forests and farmland. The iconic structures are located just 6 miles from Farmville and, from a distance, resemble their historic predecessors. But a closer look dispels the illusion.
The structures, with names such as Sun Dance and Wind Song, sit on concrete pads and are fronted by beautiful wooden doors and decorative frames. Inside, radiant-heated floors are acid-washed to look like marble. Exposed birch poles frame the open interior. Partitions made of big wooden beams and boutique pine paneling create walls for bathrooms, sleeping areas and kitchenettes.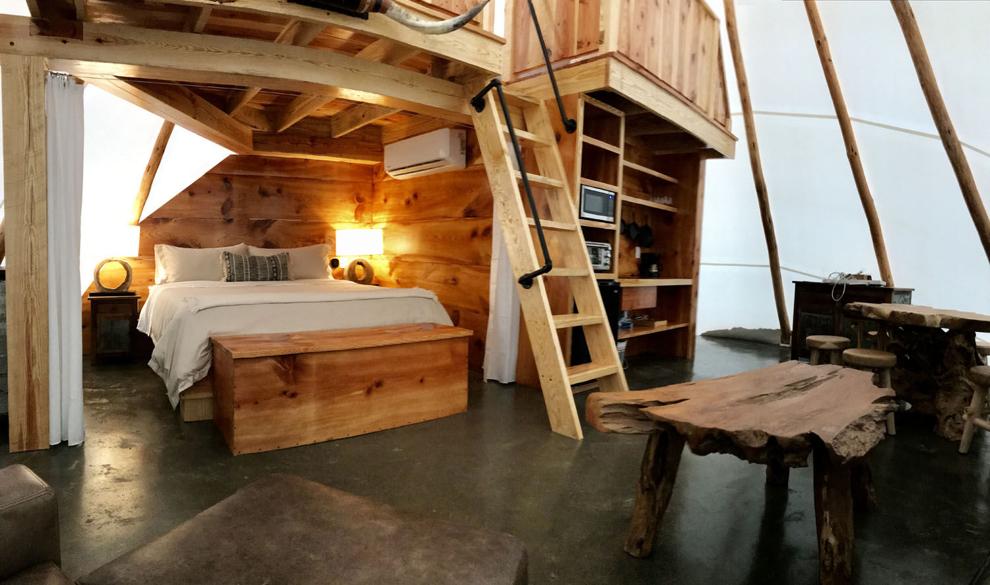 There is luxurious bedding, animal skin rugs, gas fireplaces, flat-screen TVs and living-edge dining tables, chairs and chests. Full bathrooms feature walk-in showers (and in one case, a claw-foot tub). Cooling is provided by mini-split HVAC units. Outside, fire pit and grilling areas offer stargazing and cooking possibilities.
Sandy River also has a handful of log cabins with up to three bedrooms.
While There | The 24-acre property boasts a treetop aerial adventure course with 60 obstacles and zip lines as long as 500 feet. Hiking and mountain biking opportunities are nearby in the Prince Edward-Gallion State Forest and Twin Lakes State Park. Then there's the 31-mile-long High Bridge Trail, which is itself a state park. The rail-to-trail bike path features a restored 125-foot-high, 2,400-foot-long railroad trestle above the Appomattox River that dates to the 1850s.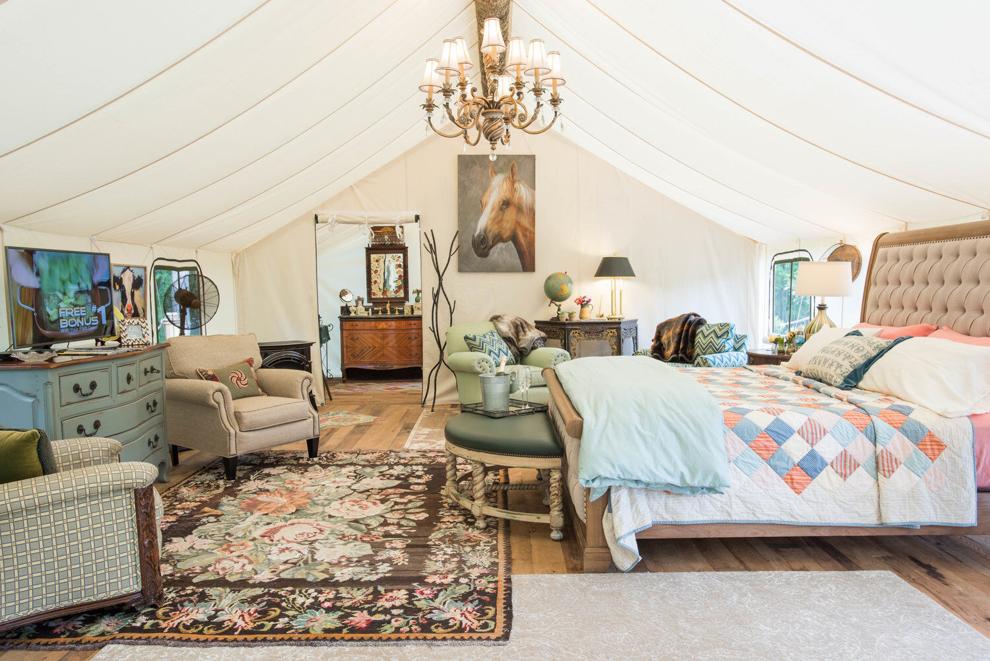 High in the Allegheny Mountains, about an hour northwest of Roanoke near the West Virginia border, sits a 6,000-acre gem. The two-story main lodge is a turn-of-the-century train depot renovated to include a lobby, lounge and handful of luxury suites. Next door, a former general store has been converted into a Southern-style, farm-to-table restaurant and gift shop. Also on the property are a selection of luxurious rental cabins and cottages, some of which can accommodate larger families.
What started in the 1980s with a family farm and a rundown train station has evolved into a destination for glampers, one that includes a tiny-house caboose, a luxified vintage Airstream trailer and a pair of lavish canvas tents: Creekside Camp and Crump's Camp.
The latter are located in private camps surrounded by forests, fields, ponds and incredible mountain views. Framed with round-timber beams and rafters and sitting atop wood platforms, the tent's look is plucked from a Gilded Age safari trip.
Inside The Depot, campers will find hardwood floors, cast iron gas stoves, vintage leather easy chairs, antique furnishings and roomy bathrooms.
While There | The Depot is surrounded by protected forests and waterways. Highlights include the Hanging Rock Raptor Observatory, a repurposed fire tower at the 4,000-foot peak of Peters Mountain that overlooks the Eastern Continental Divide. One of the Appalachian Trail's most spectacular rock formations, Dragons Tooth, is about 25 miles away.